Foto
Album
Tracce
25 novembre 2023

Thankful for...

di Dafunkydrummer & Riffraff
Biografia
My name is Ron. I started playing guitar at 13 which was a loooong time ago. I'm a huge gear junky and an amp hoarder. It wasn't planned really. I bought a lot of them non-working really cheap intending to fix them and flip them. I got the fixing part down pretty good but haven't figured out the flipping part yet. lol!

My musical taste is all over the place these days. I enjoy playing just about anything....from metal to country. Whenever I try something new I learn something from it which inspires me to dig a little deeper. My favorite players are the ones that nail all styles. I wish I had the skills, time and dedication to pull that off. I'll keep working on it.
Strumenti
Guitars:
Gibson, Fender, PRS, Gretsch, Ibanez, Carvin, Yamaha, Taylor & Ovation

Too many really. More acoustics than electrics because of my wife. I'm to blame for that though. She is a pitch perfect singer and a really good poet so lyrics come easy for her. I taught her a few cowboy chords, how to read a chord chart and showed her a website where she could look up lyrics and the chords for all of her favorite songs. Literally within days she was playing and singing a half dozen modern country tunes. She got the fever and went on an acoustic buying binge for a little while. I keep trying to get her to come here and participate but she is so busy and can't sit still long enough.


Amps:
A bunch.....vintage and modern classics with some unique mid century tube PA conversions sprinkled in.
dispositivi di registrazione
Entry level all the way! Cheap HP desk top running Reaper, a Lexicon Alpha interface. For amp tones I typically use my Peavey Rockmaster or Rocktron Plexi tube preamps. Once in a while I'll use a THD or Weber attenuator to load one of my tube amps down and provide a line out for my interface. I'm using Two-Notes Torpedo Wall of Sound for my speaker IR's and a couple of free plugins I downloaded from the web. One of these days I'll cash in some of my amps and upgrade my DAW.
Dati statistici:
| | |
| --- | --- |
| Caricamenti pubblici: | 130 |
| Fans ("Mi piace" ricevuti): | 899 |
| "Mi piace" assegnati: | 1.158 |
| Commenti scritti: | 1.192 |
| Post nel Forum: | 45 |
| Remix ottenuti: | 153 |
| Ascolti totali: | 49.321 |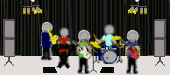 wikiloops online jamsessions are brought to you with friendly
support
by:
AKchen
from Germany
"so happy about ... thank you wikiloops & all those fantatstic musicians here"