Foto
Tracce
Maggio 10 2021

Campfire Songs - Track 2 - Mr. Boot
Biografia e influenze musicali
My name is Nick...I like Blues, Metal, Rock, Jazz, Funk...and just about anything. Dad had lots of 8-tracks and would play them frequently. Some of my favorites were the Doobie Brothers, Slave, The Eagles, Kool and the Gang, Eddie Rabbitt, Commodores, Humble Pie.

Why rootshell? Old habits and handles die hard, haha. I used to help run an internet service provider back in the 90's and we ran a bunch of Unix systems. Being a system administrator meant you had "root access" on the systems (superuser), and logged in via a "root shell". Has nothing to do with music, LOL, but I used that handle from time to time and just happened to choose it for this site.
Strumenti
I started off playing bass in high school, took like 3 months of lessons when I was about 15. Unfortunately, it didn't stick with me, so I can't read music. I taught myself guitar later on. Been playing off and on, as a hobby, for like 20 years. Played in a few rock n roll / metal bands throughout the years. I still jam with some buddies every now and then, playing some metal. I do a little vocals as well and I'm trying to get better at it, and learning how to best record vocals as well. It's still very new for me.
dispositivi di registrazione
Fender HM Strat 2020 (The Pink Lady - Drop D tuning), Fender Stratocaster (MIM - Drop C tuning), Zoom guitar pedal, USB sound card (line-in), and Audacity software. I need a 3rd guitar just for standard tuning, I'm working on that

Dati statistici:
| | |
| --- | --- |
| Caricamenti pubblici: | 226 |
| Fans ("Mi piace" ricevuti): | 2.602 |
| "Mi piace" assegnati: | 2.615 |
| Commenti scritti: | 1.909 |
| Post nel Forum: | 13 |
| Remix ottenuti: | 702 |
| Ascolti totali: | 113.096 |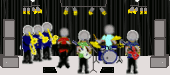 wikiloops online jamsessions are brought to you with friendly
support
by:
Reaper421
from Canada
"I've had tons of fun on here and met a lot of awesome musicians!"