Foto
Tracce
Biografia e influenze musicali
Welcome here!

Making music has been a passion for me for many years.

Most of the time I played alone and did original songs instead of doing covers ... I do not sing but I play some instruments.

I would very much like here on WIKILOOPS to have the opportunity to collaborate with singers ... and of course with other musicians.

I had a group experience a long time ago but as I have a preference for working in the studio, a site like WIKILOOPS is good for me!

I like different styles of music (Folk, Latin, Rock, Jazz, ...); There are not many styles that I do not like.

Technical practice or theory is not my strength, I play by instinct ... by feeling; However, I have basic theoretical notions to allow me to collaborate with other music lovers.

If you are a musician and especially if you are author and singer ... do not hesitate to ask for my collaboration,

Ray
Strumenti
I arranged myself a small '' Home-studio '' in which are:
Electronic Drum, Piano, ..., Some keyboards: (Roland, Korg, Yamaha, ...); Some guitars & Basses: (Fender, Gibson, Godin, Ibanez, Yamaha, ..., Larrivé, Taylor, Takamine, ...), and other stringed instruments; Some amp: (Bugera, MESA, Roland, Fender, Vox, ...); Some studio equipment: (Alesis, dbx, Mackie, Roland, ...) and software
Dati statistici:
Caricamenti pubblici:
Fans ("Mi piace" ricevuti):
"Mi piace" assegnati:
Commenti scritti:
Post nel Forum:
Remix ottenuti:
Ascolti totali:
80
1.240
1.132
1.157
19
450
227.396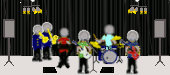 StJray è seguito da:
wikiloops online jamsessions are brought to you with friendly
support
by:
titi
from France
"Share simply! Wikiloops is a virgin place of all which pollutes our existence... Just the music, the sharing and the tolerance! A peace example !"