Foto
Tracce
Contatti
Biografia e influenze musicali
Hi all,

my name is Wolfgang, and I used to be a bass player when I was younger. Was in the studios with 19, but later (like with 25 or so) gave it all up because I was the proverbial starving musician.

After half a lifetime in IT, I bought a bass guitar in the summer of 2017 - always wanted a fretless one, and now I have it. Looking forward to contributing something here whenever I can.

My other hobby is photography, and I'm also about to document a high school music project.

for more infos please consider visiting my blog at http://wolfgang.lonien.de/
for photos please consider looking at my Flickr photostream at https://www.flickr.com/photos/wjlonien/
Strumenti
Squier VM Precision Bass fretless
Eterna (made for Yamaha) classical (Nylon) guitar (rarely used)
dispositivi di registrazione
Røde NT-1A studio condenser microphone (voice over stuff for videos)
Focusrite 6i6 2nd gen interface
PC (self built)
Debian GNU/Linux with additional KXStudio repositories
Ardour 5
various free and open source plugins and libraries
Sennheiser HD598SE headphones
Data di nascita
Febbraio 18 1957
Dati statistici:
Caricamenti pubblici:
Fans ("Mi piace" ricevuti):
"Mi piace" assegnati:
Commenti scritti:
Post nel Forum:
Remix ottenuti:
Ascolti totali: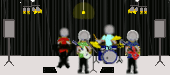 wjl segue:
wjl è seguito da:
wikiloops online jamsessions are brought to you with friendly
support
by:
HiFiFlutes
from United States
"like it? love it? Pay for it ! thanks Yall !!"