Foto
Tracce
Contatti
Biografia e influenze musicali
Eight years on Kompoz.com has not satisfied me, but what I hear on here may!

At 60 I decided to take up music as a hobby and studied classical guitar for 5 years. At the end I could read music and play Chopin in Gb? So what? I realized I was still only ever going to be an intermediate guitarist with fingers just too short to make the bar stretches easily as required. Also, i was never going to "perform" for an audience. I decided to join a group. I like jazz, but no groups around here.... Then came collaboration sites! It works perfectly for me.

The next leap came was I decided the acoustic guitar lacked sustainable notes and EVERYONE plays electric. SO, I decided to try flute. I got a cheap student (closed hole) nickel plated model that sounded like blowing into a water pipe. BUT this time instead of matching the finger to the key pressed and learning the musical notes as any performer would need to do, I told myself to just play by ear to jazz and make the right note come out instantly. It took several months (and a few YouTube lessons) to get there, but eventually I could come in anywhere in a piece with the feeling, expression and right note with confidence. My big discovery is that the brain will rewire itself to accommodate constant need / practice. Just like a carpenter learns to confidently pound nails. Later I learned the notes and the Circle of 5ths chart, and handed off my student flute to a high school student.

I recommend everyone learn a very different instrument from what you normally play to learn this powerful lesson. Many of you are already so accomplished and multi-talented, but for those who have yet to try other instruments, who love musical diversity of style, having the option of playing the right sounding instrument to match your feeling can be a delight.
Strumenti
Acoustic & Electric Guitars, classical style flute, AKAI 5000 EWI, Impulse MIDI keyboard.
dispositivi di registrazione
USB plugin guitars, AudioTechnica USB mic, Logic Pro X, 27" iMac.
Dati statistici:
| | |
| --- | --- |
| Caricamenti pubblici: | 115 |
| Fans ("Mi piace" ricevuti): | 351 |
| "Mi piace" assegnati: | 77 |
| Commenti scritti: | 171 |
| Post nel Forum: | 0 |
| Remix ottenuti: | 16 |
| Ascolti totali: | 7.501 |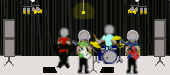 wikiloops online jamsessions are brought to you with friendly
support
by:
davidaustin
from England
"Great fun for all, a great way of learning to improvise. best musical web site I have come across, cannot put the guitar down now! "